#4 S-Biner SlideLock
The S-Biner SlideLock allows you to close the gates and lock them behind you. With the SlideLock mechanisms, you don't need to worry about your S-Biner coming undone until you WANT it to come undone. Unintended or accidental openings are a thing of the past!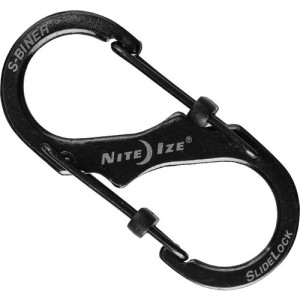 Quick Stats
High quality stainless steel construction
Available in black finish
Secure stainless steel wire gates with SlideLocks to lock gates and secure contents
Gates can be independently locked
Dimensions: 3.55″ x 1.58″ x 0.44″ / 90.33mm x 40.31mm x 11.20mm
Weight: 1.16oz / 33.00g weight rating: 75 lb.