Berkey Water Filter Tips
Berkey Water Filter / Purifier Tips
This page is dedicated to help our Berkey Family adjust, tweak, and otherwise correct any problems that might come up and provide you with helpful tips that help allow you to enjoy your Berkey to the max!
Most of our customers never have any problems with their Berkey's but there are occasional things that come up or folks that aren't as "mechanical" as others, so I hope these tips help out. Just email me if you don't see the answer you need on this page. I'll reply a.s.a.p. and help you the best I can… I'll even call in the "Big Guns" if needed! ; – )
How Do I Know When to Change My Black Berkey Purification Elements?
Nobody wants to track 3000 gallons per element and quite frankly, the elements should last longer than that anyway.
So… here's what you do. Someday you will notice that your Black Berkey Purification Elements are starting to slow down; it just seems to take longer than it used to to fill the bottom chamber with pure water.
When this happens, remove your elements and scrub them off using a Scotch-Brite or steel wool etc. under running water. When the hard water build-up is gone, just rinse them off and reinstall them as usual. Some folks will re-prime them at this time but it shouldn't be necessary if they we kept in water beforehand.
You should be good-to-go for several more months (or longer) with regular use.
Someday; thousands of gallons from when you originally installed your elements and after you have cleaned them off several times, you will clean them and reinstall them and they will still be very slow. That is the key indicator that it is time to replace them.
I advise everyone to keep at a spare set or two on-hand for emergencies and for the eventual day (thousands of gallons later,) that your elements have finally run their course.
Note: Before you decide your elements are truly "spent, done, kaput," try priming them one more time and see if that helps… it might. This guy made a good YouTube video on how to prime them: Priming Your Black Berkey Purification Elements
Leaky Spigot
Whenever spigots leak it has always been my experience that they need just a little more tightening. I know you've probably tried that but that is still probably the needed remedy. Also make sure you have one washer on the outside and one on the inside. The cream colored washer goes on the outside and the black one on the inside.
Note: The cream colored washer is slightly cone-shaped. The "cone" should point toward (or face) the bottom chamber from the outside of your purifier.
To tighten the spigot further; hold the outside of the spigot by hand and tighten the nut on the inside with an adjustable wrench or pliers about ¼ turn clockwise. Fill the bottom with water (tap water is a fast test, or use pure water… either way is fine for a test.) If that doesn't solve it, try it again.
Don't worry about breaking the spigot. It is a very tough food grade nylon and is harder to break than most people think.
In fact… if you do break it, you can send Berkey the spigot and they will send you another one at my expense. I'm quite confident a little tightening will do the trick. If you do strip or break it so badly that it can't be used, there are generally suitable replacements at a local Home Depot (or other) that will get you by until I can get a new one to you.
Note: Because the "Food Grade Rubber Washers" are so stiff, some folks have told me they have either soaked them in pure olive oil for an hour or boiled them in water for a couple of minutes before installing them and that softened them just enough to get a great seal.
My Spigot Seems To Run Too Slowly… What's Up?
OK, so this is a very rare situation but I've run into it a couple of times now.
Cause: Slightly thicker stainless steel is sometimes used during the manufacturing of any of the Berkey Stainless Steel Systems. In a way this is a good thing because your system is a little thicker and tougher than most. This thicker steel, however, creates a very tight (too tight) seal between the upper and lower chambers of your system. This creates a bit of a "vapor lock" that doesn't allow the needed air to pass freely from the edge between the upper and lower chambers. It's basic physics really, as the pure water comes out of the lower chamber it creates some suction… and should be sucking air to help the water flow freely. When the chambers are too tightly sealed, the air can't get through (quickly enough) and the water comes out very slowly.
Fix: The easiest way I have found to fix this problem is to insert a paperclip between the upper and lower chambers of your Berkey (on the back side) where it is out of the way and can't be easily seen. This will provide just enough air to flow to the lower chamber as water is withdrawn and your Berkey will flow like a champ once again! See Picture Below.
Another option is to put a small dent in the bottom of the upper chamber (where it can't be seen.) This is a permanent fix but be careful… we want to keep your Berkey looking nice! 😉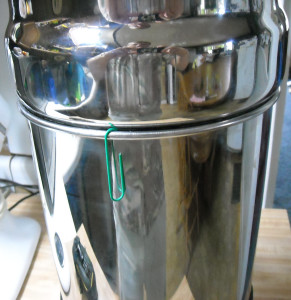 Black Berkey Elements Leaking Around Washers or Stem
There is a fine line between "too tight" and "tight enough" when it comes to installing your Black Berkey Purification Elements.
I recommend you:
1. Place the washer on the element and insert it in the hole in the top chamber
2. Put the wing nut on the stem of the element from the underside of the top chamber
3. When you start to get a little pressure on the wing nut… gently push the element toward the bottom of the top chamber while continuing to tighten the wing nut
4. When it feels "finger tight" (different for everyone,) and you can see that you have slightly compressed the washer, it is probably tight enough
5. Now gently wiggle the element while looking at the stem and washer area to see if you see gaps between the washer and the bottom of the chamber (if any gaps appear, tighten a little more)
If you are not certain that your elements are adequately tight, conduct the "Red Food Coloring Test" as described below. This is especially important if you are drinking highly contaminated or suspicious water.
Red Food Coloring Test
To ensure your Black Berkey Purification Elements are adequately tight, you may want to perform this test. Berkey recommends you do it every few months or whenever you are drinking highly contaminated or suspicious water that may contain harmful things like parasites. If they sneak past your elements you may get sick, so this is an important test if you are drinking swamp or lake water etc.
Step by Step:
1. Be sure the bottom chamber is completely empty and the under side of the top chamber is dry
2. Fill the top chamber of your Berkey with water (as usual)
3. Add several drops of RED Food Coloring to the water and stir
4. Allow the water to flow through the elements for at least several minutes
5. Fill a clear or white glass with pure water from the bottom chamber and check for any sign of red or pink color
6. Lift the top chamber off and look for any signs or red or pink on the underside of it; especially near the washers and stem
7. Discard the remaining red water and refill with your usual water if not signs of red or pink are detected (as above.)
Notes:
1. If signs of red or pink water are detected as above, you will need to tighten your elements a little more and re-test. Repeat this process until there is no longer any sign of red or pink. If you cannot assure that no coloring is getting through after re-tightening, it is possible you have a breech in one or more of your elements. This is very uncommon but can happen due to rough treatment or rare manufacturing defects. Any red or pink coloring escaping an element (through the stem) is a clear indicator that element must be replaced.
2. Berkey (New Millennium Concepts) has just published a new paper on doing this test. Both mine and theirs have some tips the other doesn't have. You can see theirs HERE Theirs is the "official" test.
How to Have Ice-Cold Pure Berkey Water
After your Berkey sits on the countertop for several hours you may want the water to be a little colder; we sure do. For a while we were draining our Berkey into a pitcher and placing the pitcher in the fridge until it was cold enough to suit our tastes. This turned out to be a bit more of a hassle than we wanted.
Now, when we want really cold water, we drain some of the pure Berkey water into a large bowl and sit it in the freezer. We usually let it freeze overnight. In the morning we'll run a little warm tap water over the outside of the bowl to release the ice inside and "SLOWLY & GENTLY" lower the ice down into the lower chamber or our Berkey. This provides several hours of very cold water.
Another simple method is to use the old fashioned ice cube trays. Just fill them with your pure Berkey water and let them freeze. Fill your glass with pure Berkey water and pop a couple of pure water ice cubes in for a tall glass of ice-cold pure water.
Notes:
Don't be shocked if you see your ice is not crystal clear after you made it with pure water. One of the greatest benefits of Berkey Water Purification Elements is that they allow the healthful minerals to pass through into your pure water. If you have mineral-rich water your ice cubes will be at least somewhat opaque or white looking. It's just plain and simple physics. ; – )
Why Is There Hard Water Build-up In The Pure Water Chamber?
One of the biggest benefits of the Black Berkey Purification Elements is that they allow the dissolved minerals to get through, while keeping things like chlorine, lead, parasites and other nasties out of your pure water.
If you put "hard water" in the top chamber, it really won't be much "softer" when it reaches the bottom chamber. That is a good thing but may require you to wipe it out from time to time. We use a fairly soft bristle brush (the kind many folks use to wash dishes,) and a little dish soap. A Scotch-Brite pad will also work quite well for this task. Of course we rinse it VERY thoroughly before reassembling it and putting it back in service.
How do I prime the Black Berkey® Purification Elements when water pressure is unavailable?
Before we get into that… this guy made a good YouTube video on how to prime them:
Priming Your Black Berkey Purification Elements when you do have tap water pressure.
The micro pores on the Black Berkey® purification elements are extremely small, in fact they are small enough to filter red food coloring out of water. The benefit from having such extremely small pores is greater efficiency at removing pathogenic bacteria and other contaminates. The downside is that too much water tension can require that the purification elements be primed before they will flow properly. When you receive the purification elements, they are dry and air is trapped within the tiny micro fine pores. In certain parts of the world, water has more water tension than in other places and this can change from season to season. The higher the water tension, the more difficult it is for the water to force the air out of the micro fine pores using gravity alone. The pores that have air trapped within them do not allow water to pass through and therefore become an inaccessible passage for the water. This then causes the system to either filter very slowly or not at all.
Before traveling to and using the system in an area without water pressure we recommend that the purification elements be primed using the priming button. If this however is not possible and water pressure is not available to use the priming button method, the elements can be primed approximately 50% by using the below method. In other words using this method, the elements will not purify as fast as they will by using the priming button method however they will run significantly faster than if the elements have not been primed at all. The alternate priming method is as follows:
STEP 1: If your system is assembled, remove the purification elements from the upper chamber. Next, fill the lower chamber with water, then place the purification elements into the water in the lower chamber, upside down with the stems facing upward, and put a ceramic coffee cup (or something else that will hold them under the water) on top of each purification element stem to force the element down under the water. Let the purification elements soak in the water for several hours. This will force some of the air out of the stubborn pores. NOTE: Make sure that opening in the stems of the purification elements are not underwater as we want the water to be forced through the pores rather than entering through the hole in the stem.
STEP 2: The inside of the purification elements should now be full of water and significantly heavier. Try to keep as much water on the inside of the purification elements as is possible as you reassemble the purification element into the upper chamber by keeping the stems facing upward. Empty the water from the lower chamber and place the upper chamber back onto the lower chamber. Immediately fill the upper chamber with water.
When the purification elements have water within the bore (inside core), more force is generated to draw water through the purification element. This is because the water that drips out of the purification elements also hydraulically pulls new water into the purification element as the purification element begins to work like a siphon. Thus, in addition to the "Push" of gravity, there is also a hydraulic "pull" and this drastically improves the ability of the water to force the air from the micro pores. The above method is less efficient than priming the purification elements with the priming button but should be about 75-80% effective in clearing the blocked micro pores.
Let the water in the lower chamber run to waste and refill the upper chamber with water. Your Black Berkey® elements are now primed and ready for use.
UPDATE! Click this link to see how to "Bag Prime" your Black Berkey Purification Elements.
Make Your Own Homemade Berkey Plugs
Yes, you can buy plugs from Berkey but it you want to make them yourself… I think this image says it all.
(Click Image To Enlarge)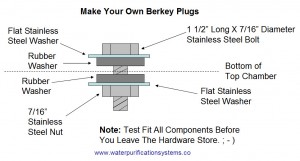 Can I Store My Berkey System Long-Term?
Yes, your Berkey can be stored long-term without any problems at all. That said; here are some tips to make sure you store it the best way possible.
1. The Black Berkey Purification Elements must be dried-out first. We recommend you remove them from your Berkey and shake them (stem side down,) to remove as much water as possible. After that, place them in a windowsill or somewhere warm and dry for a few days in order to evaporate out all the remaining water. You want them to be VERY DRY.
2. After your filters (purification elements) are completely dry, you may put them back in your Berkey (installed or not) or in a box or sealed in a plastic bag etc. You just want to keep them out of contact with lots of moisture and especially harsh substances like gasoline or paint and such. They are so "super-absorbent" that storing them in the presence of strong odors may cause them to take-on a flavor or odor that might not be too pleasing when you begin using them again.
3. Clean and Dry your Berkey system completely and store it in a safe and dry place. You may want to put it in a tied-off trash-bag or a box (or both) to help keep moisture and insects away from it while it is in long-term storage.
Technically, unused Black Berkey Purification Elements have a shelf-life of ~50 years. That said; even if they were used for a time and thoroughly dried and stored, they should last ~virtually indefinitely provided they are kept clean and dry.