"Berkey Light"
The Berkey Light Water Purification System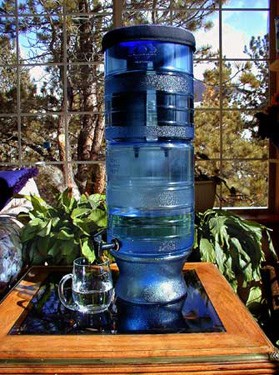 The Berkey Light water purifier is a lightweight and more portable alternative to the stainless steel systems. It's perfect for a large family or even a sizeable group.
Quick Stats:
Home, Groups and Emergency Use
Dimensions: 27″ High x 8.5″ Wide
Pure Water Holding Capacity in Gallons:
2.75
Flow Rate in Gallons Per Hour:
*8.5
(*When Fully Loaded With 4 Purification Elements)
Eligible For Discounted Items (
YES!
) See Drop-Down Box Below
Comes Standard with 2 Purification Elements But You Can Add More Below
System Price (W/2 Elements)
$243 + Any Additional Purification Elements (& Lights)

As of Dec 3rd 2012, We CAN Now Ship to California (Click HERE to learn why.)
So…Why is it Called the Berkey "Light"?
The answer is simple…you can purchase the Berkey Light with a Lighted Base and the whole unit is made of very light-weight "Non-BPA Co-Polyester." It's very similar to the popular water cooler bottles you might see at the office.
Here you can see the White Light Base and the Blue Light Base…but why have lights at all? Emergency Lighting is a great answer, but the extra lighting is also a great idea if you go camping and need a little night light to find the system in the dark of night ; – )
Lighted "Blue Lights" In Base and Lighted "White Lights" In Base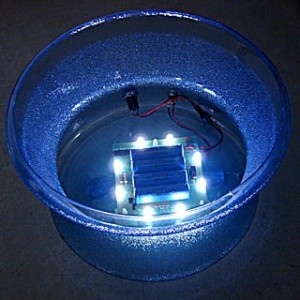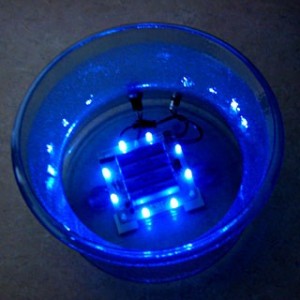 At night the system looks like this…and it's Made In America Baby!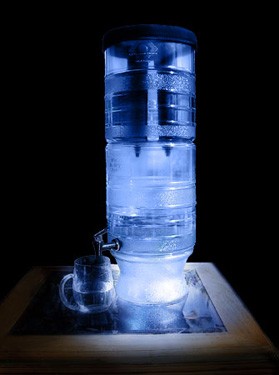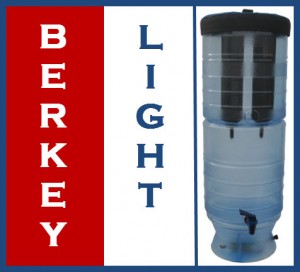 A Water Purification System with a Light…
The Berkey Light is a great water purifier and uses the same Black Berkey Purification Elements as the Stainless Steel Water Purifiers. Being so light weight is nice because it makes the system very easy to transport for picnics and camping trips.
The Berkey Light systems are also very dent and ding resistant…the stainless steel systems are a bit more prone to getting dents and dings. We own both a Crown Berkey and a Berkey Light. We use our Berkey Light more than our Crown, but consider both water purifier systems to be great emergency preparedness supplies.
One of the special qualities of the Berkey Lights is that they are made of a resilient "Co-Polyester" that deflects blows and doesn't leech any "BPA's" into your water. BPA's have been linked to cancer so we are glad they are BPA-Free.
Buying a Berkey Light Water Purification Systems is as easy as clicking the "Add to Shopping Cart" button and entering your payment details. These systems are a bit cheaper than their stainless steel cousins and always available.
Berkey Water Filters / Purifiers Comparison Chart
| | | | | | |
| --- | --- | --- | --- | --- | --- |
| Berkey Systems | Pure Water Holding Capacity | # of Purification Elements & Flow Rate | # of Purification Elements & Flow Rate | # of Purification Elements & Flow Rate | # of Purification Elements & Flow Rate |
| | | | | | |
| | | | | | |
| | | | | | |
| | | | | | |
| | | | | | |
| | | | | | |
| | | | | | |
* Flow rate calculated with upper chamber full to top. Flow rate decreases as water level declines.
Powerful Water Filtration and Purification Specs.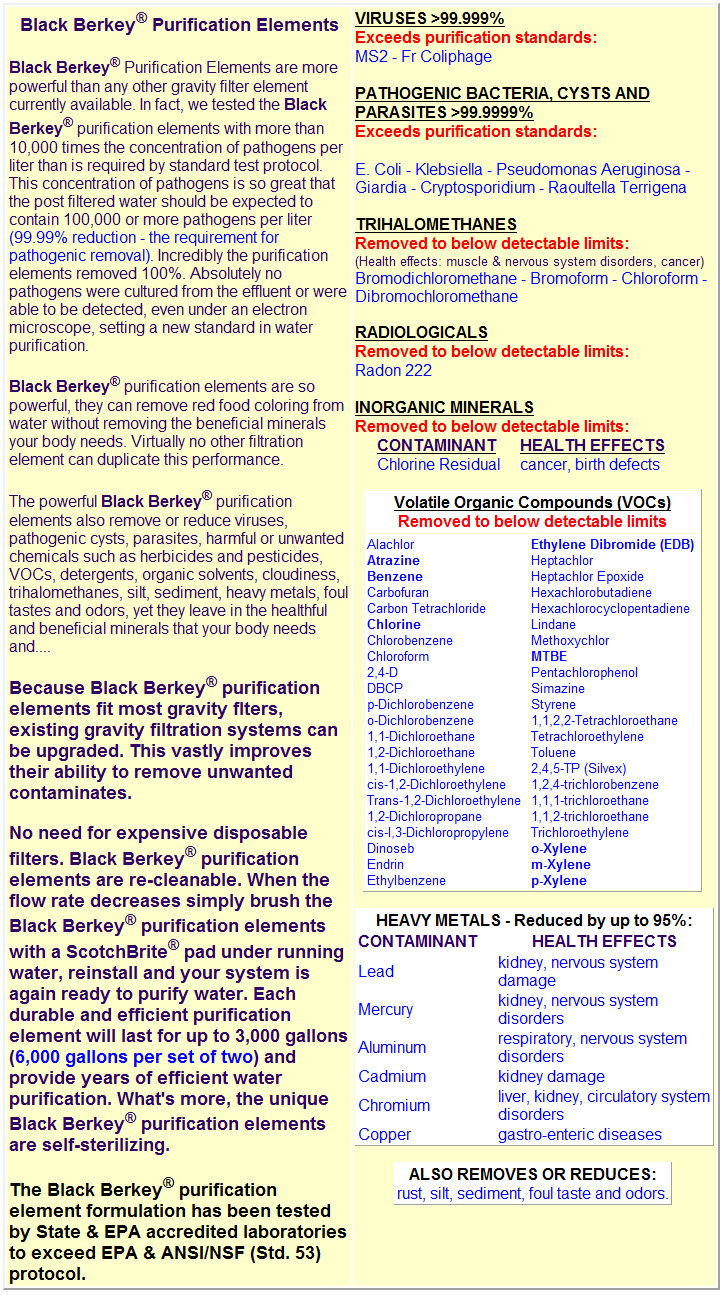 Berkey Water Filter Folks
Average rating:
0 reviews