CamJam – Cord Tightener
Like the CamJam-XT, The CamJam will work with any hook, D-ring, or loop. It's made of heavy-duty plastic and is great for tightening, tensioning, securing, hanging and wrapping. This little guy can easily be stowed away in a Bug Out Bag, Get Home Bag, or any other place where storage space is an issue.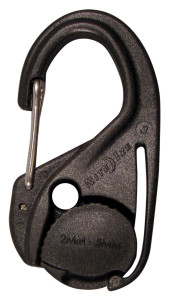 Quick Stats
Weight: 1.69oz | 16.00g
Fits rope sizes: 1/16″-3/16″ (2mm-5mm)
Dimensions: 2.70″ x 1.35″ x 0.58″ / 68.57mm x 34.30mm x 15.34mm
Lightweight, strong construction(38g)
Made of sturdy, durable plastic
Two attachment methods for ultimate versatility… Loop System and Fixed End System
Available in either a 6, 12 or 18 pack
WARNING: NOT FOR USE WHERE DISENGAGEMENT COULD RESULT IN BODILY INJURY OR PROPERTY DAMAGE. NOT FOR CLIMBING.

Easy to adjust and readjust, the CamJam is made to use and reuse hundreds of times, in hundreds of ways. Clipped to rings and hooks, it's excellent for hanging and securing tarps, tents, blinds, gear (perfect for bear bags!). Create a loop by clipping it to one end of the cord and pulling the other end through to bundle sleeping bags, blankets, cut brush, or wrap light loads to wheelbarrows, wagons, dollies, bikes, and boats.
(Sold in Sets of 6)