Returned Juicer In Perfect Never Used NEW Condition
This is a special deal on a Super Angel Juicer that was returned to me and has clearly never been used and is in Brand New / Perfect condition.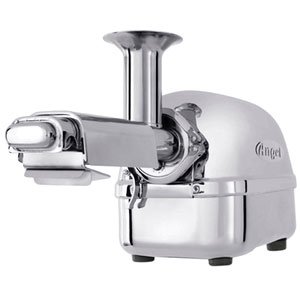 The BEST Juicer Available Today! Makes "Living Juices!"
Quick Stats:
Home Use, Makes Juices, Nut Butters, Pastes and More!
This Is The CR5500 Model
Dimensions: 10.5″ High x 7.8″ Wide x 19.0″ Long – Shipping Weight: 28 lbs.
3 Horsepower Motor!
10 Year Manufacturers Warranty Included! (Berkey Water Filter Folks Is An Authorized Dealer)
Our Special Price (Includes Free Shipping!) $1059.97
Condition Notes:
This juicer was returned to me for unknown reasons. I went over it with a fine-toothed comb (a.k.a. extremely close inspection) and found it to be in "Brand New" "Never Used" condition and to run as designed. It has never been registered for the warranty so you are the original buyer and the full warranty applies.
Not only is this this the best juicer you'll find, it's also the one we use in our home. It is solid and strong with stainless steel construction. Everything about it is heavy-duty and of superior quality. It has a larger than needed 3 horsepower electric motor so you can power-through carrots and wheatgrass and even seeds and nuts if desired.
This is a "Slow Juicer" that runs at 86 RPM's so you don't destroy the enzymes while juicing.
Watch This Video and Watch How the Super Angel "Beats the Pulp" Out of the $2500.00 Norwalk! (It Isn't Even Close!)
The Super Angel Limited Warranty… The One You'll Probably Never Need!